MiniAvatarWar
A downloadable game for Windows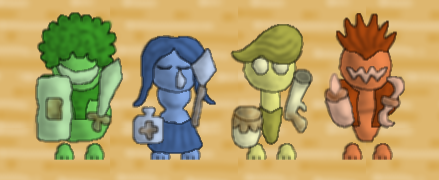 note: background color was changed so is best than in images
--------------------------------------

Hi, in this war simulation, you can create an avatar via Google forms!!!

This, more than a game, is a performance and gaming, I invite you to fill the form even if you dont wanna download and play, so the people repository grow!!!
Yeah, in game you see others online avatars, and they can say some lines.
Warning, it may contain language or sensitive topics, because everyone writes what they want.
--------------------------------------
Hola, en este simulador de guerra, puedes crear un avatar vía Google formularios!!!
Esto, más que un juego es un performance y juego de azar, te invito a llenar el formulario incluso si no quieres descargar y jugar, entonces aumentará el repositorio de personas!!!
Si, en el juego tu ves los avatares online de otros, y ellos pueden decir algunas líneas.
Advertencia, puede contener lenguaje o temas sensibles, porque cada quien escribe lo que quiera.
--------------------------------------
Google Forms (in spanish) - Formulario
https://forms.gle/cotfnu3xPywLjaWH9